Steel Buildings Technical Information
What is a portal frame structure?
Buildings supplied in the Blueriver Steel Buildings range are portal framed buildings. Portal frame means that the buildings are constructed in bays. So the longer the building the more bays there will be. The builder will construct two portal sections. Each section consists of two posts and two rafters that are joined by brackets (the portal frame). Then the two sections are joined together by attaching purlins horizontally between the sections.

Buildings constructed from this portal frame method are strong, durable, inexpensive and easy to erect.
The benefits of using cold rolled steel
The steel used in our buildings is cold rolled steel. This type of steel is high tensile and very durable. It is incredibly strong, but lighter than comparable hot-rolled steel. This means the combination of cold-rolled steel and portal frame allows relatively small sections to span long distances. In turn, this cuts the cost of materials and due to the reduction in weight, it allows for innovative construction techniques to be employed. This will result in shorter construction times for you building, thereby reducing the erection costs - higher quality, faster build times and low cost - what more could you ask?

Due to its shape, most cold rolled steel purlins can be packed into very compact bundles. This will allow a large building to be transported in a relatively compact package, thereby significantly reducing transportation costs.

Another advantage of using cold rolled steel is that it be cut by the manufacturer to an exact size. This eliminates wastage and saves cutting on site. Cold rolled steel can also have holes punched through it by the manufacture. All together this means that the material can be delivered as a kit ready to be bolted together.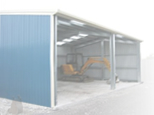 The end result is a superior building, engineered to exacting British Standards. It is easy to build, extremely strong and attractive to the eye, and above all, easy on the pocket. It allows us to use a state of the art computer design system that allows our customers, with the aid our expert sales team, an enormous amount of flexibility to design a building to suit your needs.
---
Technical infomation about the materials used in Blueriver Steel Buildings including specifications and description of the steel panels, roofing, guttering and so on.
Standards and technical specification documents