Quick Guide to Steel Buildings
If you have never met a 'Steel Building' before; here is a layman's guide to what they are, why you may not have heard of them before and what's so clever about them
Steel Buildings are glorified 'mecano' type constructions. Their strength comes from the clever use of angle brackets, ties and geometry to give the structure strength.
Because they are made of smaller, modular components that can be easily, quickly and cheaply manufactured, the results are low cost, secure buildings that are only limited by the creativity and imagination of the designer or specifer.
These buildings can range from the very small ones, similar to garden sheds to ones accommodating large aircraft!
The sheeting that covers the building is finished in any of 17 colours with different internal and external finishes, such as extra thick insulation for a building that is going to provide living space for people!
As long as they have a simple concrete base, these buildings can be errected in hours, yet can stand hurricanes.
Here is what a 65 mph wind did for one of our customers using a more typical building used to house a microlight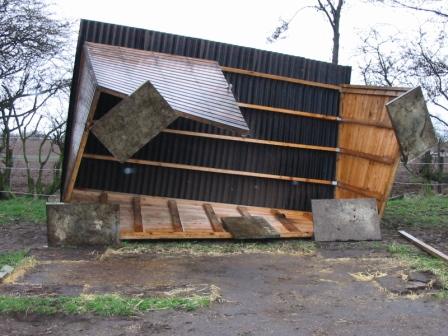 The buildings can be built by one or two people, section by section with no specialist tools or lifting equipment required.
The building is bolted to the concrete floor to make sure it doesn't get blown away.
And if you need to move it in afew years time, then simply unbolt it and move it section by section to its new resting place!
There are over 4 different types of wall structure and coverings in 17 different shades, surely there is something for everyone?

Planning Rules vary enormously depending on location, local planning issues, restrictions, covenanats and existing buildings.

Generally we assume that you will have to apply for planning permission!