Canine and Kennels
Looking for Canine Kennels or housing for dogs built to the size you need? Steel buildings can be the perfect option for dog breeders and pet owners looking to construct high quality professional kennels for dogs or other animals providing security and ease of maintenance.
Built to high standards of comfort in robust cold-rolled steel and using portal frame to maximise the use of space, our steel kennels cost less and are twice as flexiible as other housing solutions, providing both comfort and shelter without breaking the bank.
Tough from the outside, then add your interior to suit the numbers of animals you have. Perfect buildings for boarding kennels, housing for animal breeding or using dogs for security. Single skin or insulated to fire rated standards and insulation factors. Domestic buildings for your pets at home. Build it yourself or hire us to erect the kit delivered to your door.
Please see our Standard Price Range by clicking 'standard animal housing prices on the left of this page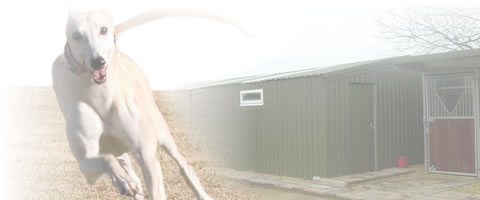 5m x 8m x2.4m eave. Single Skin Cladding with Anti Condensation barrier preventing Moisture build up. Internal Kennels not supplied by Blueriver